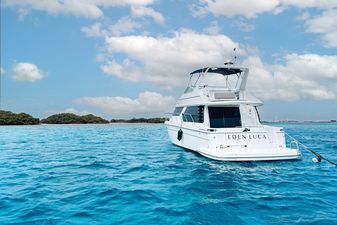 Private VIP Yacht 45ft for 6 people (Up to 12 max)
Your private captain
Enjoy the Caribbean Sea
Reservation form
Important information about Rental luxe private boat
Activity type

Boat Rental Private Groups
Duration

Choose 3, 4, 6 hours or our Sunset VIP Trip
Book in advance

Yes, an Deposit is Requierd
Food and drinks

Snacks $ Premium Open Bar included
Cancellation policy

Before 75 hours otherwise we keep the deposit payment
Activity name

Luxury Private Boat Trip on a 45ft Cruiser
Meeting point

Varadero Aruba Marina & Boatyard
Location

Bucutiweg 34, behind the Airport
Description Rental luxe private boat
The Pricing: we use low and high season prices
Low season price from March - October:
> 2 hours VIP is 1099USD for 6 people (add 50$ p/p up to 12 people max)
> 3 hours VIP is 1499USD for 6 people (add 50$ p/p up to 12 people max)
> 4 hours VIP is 1799USD for 6 people (add 50$ p/p up to 12 people max)
> 5 hours VIP is 2199USD for 6 people (add 60$ p/p up to 12 people max)
> 6 hours VIP is 2499USD for 6 people (add 75$ p/p up to 12 people max)
> Above 10 people we charge an extra mate of $100
High season price from November - February:
> 2 hours VIP is 1299USD for 6 people (add 75$ p/p up to 12 people max)
> 3 hours VIP is 1699USD for 6 people (add 75$ p/p up to 12 people max)
> 4 hours VIP is 1999USD for 6 people (add 75$ p/p up to 12 people max)
> 5 hours VIP is 2399USD for 6 people (add 75$ p/p up to 12 people max)
> 6 hours VIP is 2699USD for 6 people (add 75$ p/p up to 12 people max)
> Above 10 people we charge an extra mate of $100
Included: Your own Captain and Mate & Cold Snacks & Premium Open Bar (Vodka, rum, soft drinks, water & ice)
Boarding Location: Varadero Aruba Marina & Boatyard, Bucutiweg 34. Behind the Airport.

We don't provide transport from your hotel to the harbour, this you have to arrange on time at the reception of your hotel or accomodation. After agreeing the date, start and the end time of your boat trip is known, then you can make a reservation.
Our Additional Services:

Beverage:
> Upgrade to Champagne, ask for price please.
> You don't want Vodka or Rum? choose then from White wine, Local Beer or Prosecco, or you can order it extra please ask for the prices

Additional Services:
Food: Upgrade to a barbeque for $49 p/p, choose from:

- Meat: chicken or beef on a skewer or hamburger (home made) with fresg salad & fresh vegetables (**)
or
- Fish: Salmon or Shrimps with fres salad & fresh vegetables (**)

Celebrating special occasion
> We can offer you a standard cake price depends on the size of the number of people during your trip
> A tailor-made cake with the colors and taste of your choice and possibly text

> Decoration of the boat is only possible outside (and only possible if no other trips are planned on the day before your trip starts. Decorating a boat takes place 1-2 hours before your departure):

Ask for the prices of decoration.
Deposit / Downpayment
You don't want to miss this unique experience so book quickly, with 50% downpayment of the total amount you will have a final reservation for your request boat trip day and time.
Details boat
Snorkel Gear equipment

Towels

2 paddle boards

Luxury Sun Pads (front and back)

Deluxe audio system with bluetooth to connect your music

WC/Toilet

Aircondioning cabine

Shower outside

WIFI

2 Cabins

Covid Proof cleaned equipment

Life jackets/required safety gear

Cockpit galley

inboard Engine 2 440 hp volvo penta diesels
Cancellation Policy
A full refund without penalty shall be given if charter is cancelled at least 1 week prior the sailing date. 25% cancellation fee within the week till 72 hours and within 72 hours no refund.
A full refund will be provided If charter is cancelled by Adventure Sports Aruba

What to expect?
Discover the freedom and relaxing feelings on our luxury 45 feet Charver 450 Pilothouse Boat Charter with your family and friends. Your own Captain and a mate included.
The uniqueness of this cruise is that you design the program were to go (taking into account the wind and waves) yourself if you want. Decide what part of Aruba you want to explore based on your interests and we will take your group there privately up to 12 guests. Or Captain can you give advise about the best conditions at your day so you will have the best trip.
You will have the undivided attention of our knowledgeable as well as personable Captain and first mate serving your friends or family. Plus you are in the comfort and luxury of our beautiful ocean going motorized cruiser with strong and good serviced engines, so you are save to go.
COVID 19 Notice
Our boat becomes thoroughly sanitized before and after every trip we host. Guests are not required to wear masks. Focus on sanitization: increased cleaning frequency for high-contact areas. Equiped team members with the tools they need to provide increased protection such as increased hygiene and disinfection. Hand sanitizers will be readily available and accessible. Daily health checks of our crew. Maximum enjoyment and safety for our guests.
Adventure Sports Aruba is a part of One Happy Dive Center NV.
FAQ
There are no question yet. Ask your question below!
Question successfully received.