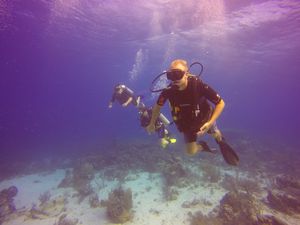 Important information about Boat Diving Aruba
Activity type

Diving
Duration

2 tank dive 4 a 5 hours
Book in advance

Yes
Activity name

Boat Dive
Meeting point

pick up
Minimal age

10
Description Boat Diving Aruba
Private Boat Dive Aruba
In addition to shore diving in the beautiful Caribbean Sea of ​​Aruba to see the beautiful reefs, a private boat trip to dive on one of the wrecks is necessary. We regularly take the Cocolizo boat to dive on one of these dive spots. We can transport up to 6 divers on our boat and the captain stays on the boat during the dive and can, for example, pick up previously ascended divers, but also the place where you take off and keep your boat above water so that you can safely get in and out of the water. On board we have water and soft drinks and or fruit and snacks available so you can relax during the private boat dive.
Safety on board
On board we have life jackets, radio, first aid stuff and oxygen so that we can prepare for the water. The captain watches over our safety from the boat and will support you while getting in and out of the water. At boat dives, at least 2 experienced employees always go along to give you an unforgettable dive day from the boat.
Book your Boat Dive
You can book your private boatdive online or call/whatsapp us at +297 5614310.
Other Watersport Activities
In addition to diving you can visit us for all other watersports, whether you like to fish, snorkel on a sailboat, motorboat or on a flamingo it's all possible with us. Racing over the water with a fast jetski, parasailing, paddleboarden , kayaking or gliding over the water behind the boat with a tuberide we have something to do for every family member. You can also rent our Cabana and chill, sunbathe and alternately spend the whole day at Palm Beach with the possibility for snacks and drinks or a bbq on the beach. Let us know what you'd like and we'l assure you of a wonderful holiday.
FAQ
There are no question yet. Ask your question below!
Question successfully received.